Concrete Decking For your Pool Pros and Cons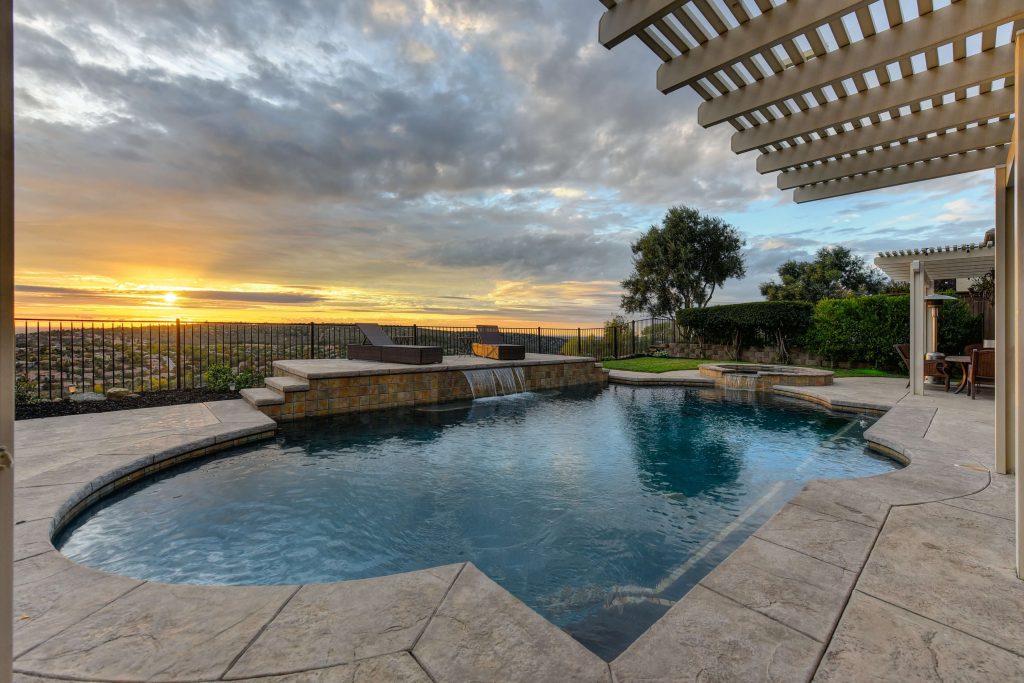 If you're having a pool installed in your backyard, you are considering all the options you have for the pool decking. Concrete is one of the most popular options used for pool decking in St. George Utah.
No doubt, you have some questions about this, if this is the way you're leaning and you're likely selecting concrete because it's the cheaper option of all that are available. Now, we're talking about concrete, versus pavers, versus natural stone, and even though concrete is the least expensive, you do have some options here to upgrade its look.
Pros of Concrete Pool Decking
The first pro of concrete decking is concrete is the most cost-effective material compared to all of the options you have for pool decking. There are many style options available and it can imitate higher-end materials. Concrete is also quite durable. On the cons, it can be difficult to match the color to the existing patio space already at your home. Depending on the finish, it can be slippery, and of course, when it comes to poured slabs, concrete is known to crack. 
In greater detail on the pro side of things, when we're talking about cost-effectiveness, concrete can cost anywhere from $6 a square foot, up to $18 a square foot. Now that's depending on the finish that you choose, whether it be broomed, textured, or stamped. Compare this to the cost of concrete pavers or natural stone materials, which can range anywhere from $16 to $35 a square foot, I think you'll find concrete to be quite an affordable option for you.
In addition, on the pro side of things, concrete has a number of style options, anywhere from a broom finish, which we've all seen on sidewalks as we're going down the streets, to textured concrete versus stamped concrete. Now the comparison between those two is that textured concrete does not have a color or a sealed finish applied. It does have a stamped pattern in it, but there's just no added color or sealant to the look of the concrete.
So you get a patterned finish, but you have that concrete, traditional gray look. Compare that to stamped concrete, which is often colored and then has a seal on it. In addition to the stamped pattern, we mentioned that it can imitate other high-end materials such as wood, brick, and natural stone. There are a number of different patterns available that can be stamped down into the concrete to achieve a look you may be looking for.
And finally, on the pro side of things, concrete is amazingly durable. It is a long-lasting material that is very low in maintenance. 
Concrete Pool Decking Cons
Fortunately, on the con side, durability gets a little bit of a mark there too. With poured concrete slabs, cracks are going to occur. So although the material itself can withstand miles and miles of walking and hours and hours of play and can last years, at some point, somewhere in the concrete slab, a crack is going to develop.
Now, what I mean by that is you can expect your poured concrete deck to have control joints placed at various locations around the pool deck. And what these are designed to do, is actually invite a crack to occur at that location, as opposed to out in an open field on the concrete deck. This allows the crack to occur as it needs to, when the deck begins to settle, but not to be visible after the fact. Another con is that matching colors in concrete can be difficult to do if there's existing concrete patio space already at your home. We've all gone down the sidewalk and seen a patch of concrete that we very clearly knew had been replaced at some point. And that's because it's difficult to match that gray color from one batch to the next.
That's not to say that it can't be matched, it's just very difficult to do. And even more difficult if for whatever reason you want to add onto your pool patio later, especially if you've chosen a color option in stamped concrete. The last con would be that concrete can be slippery. If your kids are like most kids, they're going to ignore the rule about no running around the pool deck. But you can expect that if you have a colored concrete finish if you have stamped concrete and a sealant is applied, that concrete deck is going to be far more slippery than a broomed, concrete finish. So just be mindful that when it gets wet, concrete is going to be slippery.
Get started with your pool or spa project in Three Easy Steps!
Schedule a Call
Either give us a call at 435-705-7566 or fill out the form below for a complimentary consultation.
On-Site Design
We'll work around your schedule, sending our Utah-based custom inground pool designers to make an assessment.
Transparent Quote
Once we understand your project goals and visit your premises, we'll determine an accurate quote for your custom pool or spa.
Simply fill out the form and a member of our dedicated support team will be in touch.
(We respect your privacy)